Elite MMA News
Upcoming Belt Test Dates
January 18, 2014
All School Belt Test At Westheimer!!!
Respect Badge Recipients
Finished 1st Booklet
Alexander P. Evan M. Brittany H.
Finished 2nd
Kelechi N.
Baytown Student Highlight: Tonya Jones
What are your name, age, and profession?
Tonya Jones 38yrs
When did you join Elite MMA?
My daughter (Zoe) started BJJ a few years ago; I started taking the kickboxing classes shortly after they were offered in Baytown.
Why did you decide to start taking martial arts? In the past what had caused you not to take martial arts? Is this your first time taking martial arts and what classes do you take?
I started kickboxing for the cardio. It's a great workout and much more enjoyable than the treadmill any day. I had taken kickboxing a number of years back and was very excited at the possibility of getting back into it again.
If you had any concerns about joining Elite MMA, what helped you with your decision?
The incredible encouragement and support that my daughter has always received from the coaches made joining an easy decision. They are always there to push you when you're dragging and lift you when needed.
Since you have been part of Elite, please share what you have been able to accomplish?
Kickboxing keeps me committed to my cardio. I have been able to work on leaning out to better show the results of the weightlifting I do as well.
Anything else you want to share with someone who is looking to get involved with martial arts or looking to change their current lifestyle?
Our kickboxing class has become somewhat of a team. We encourage each other. We also look forward to seeing each other so it helps to keep you coming back. The workout itself is one that can be done as a beginner as well as experienced. The only workout that you ever regret is the one you didn't do.
Junior Dos Santos visits Elite MMA
Elite MMA had a guest on the evening of Sunday, October 13th. Jr Dos Santos and his camp were great guests during their preparation for the title fight versus Cain Velasquez in Houston, TX at UFC 166.
Westheimer Instructor Highlight: Lucho Silva
What is your martial arts teaching his-tory and where do you currently teach?
When I started BJJ at Elite MMA I saw a significant improvement in many as-pects of my life such as my organization skills, my problem solving skills, my re-latedness with others improved, my self-esteem improved so much that I felt the need to help others achieve all the benefits and blessings that I have re-ceived so I decided to start paying it forwards by assisting with the Kids Pro-gram at Elite and I have been helping for the past four years. What is amazing though is that while I felt like I was helping others I think I have gotten so much more in exchange. Through our program I have seen these amazing Elite kids achieve their goals.
What is your current rank in martial arts?
I am a purple belt in BJJ
What caused you to start practicing martial arts?
I was around 250 lbs. and a bit depressed. I wanted a challenge and I needed to get in shape. Within my first year of training and with the support of my Elite Team I was able to drop 85 lbs. it was a huge accomplishment and I triggered in so many aspects of my life. I would have never been able to do it on my own.
What is your educational background?
I went to school back home in Chile now at 44 years old I figured that if I can do BJJ I can do anything in my life so decided to go back to school and I am working towards my bachelor so I can go to law school.
Do you have a competitive history in martial arts?
I competed in a few tournaments and have not discarded the idea of com-peting in the near future but I love to coach. I have been to the Worlds Championship a couple of times to watch. I love competition Jiu Jitsu and I watch it all the time.
What do you see is the main benefit the average individual can receive from martial arts?
Discipline, Improved, self-esteem, weight management, leadership to mention a few benefits that I have gotten from practicing Martial Arts this is the best thing that has happened to my life. I can hon-estly say that Jiu Jitsu has improved my life and amazing ways.
What is your favorite part about practicing martial arts?
Pushing myself to the limit all the time and taking on new challenges. Helping others achieve their goals.
Where do you hope martial arts will take you later in your life?
I hope one day to get my black belt in BJJ and I want to keep on teaching. Watch my students achieve greatness on an off the mats. STAY STRONG, STAY RELENTLESS and DO NOT GIVE UP
Armbar from the Back with Justin McCravey
1. Kimura grip: After establishing posi-tion on the back move from your seat-belt Grip to the Kimura grip by grabbing the the arm and figure fouring your wrist.
2. Fill the Hole: While holding on to your Kimura Grip, Swing your hips to the side and drop the opponent into the hole.
3. Head Control: Put the back of your fore arm against the face to control your opponents head.
4. Calf Check (Talk to the Foot): Place the side of your calf against the oppo-nents check.
5. Kick Start: Extend your leg and turn the opponents face to the ceiling. I call this Kick-starting, just like a motorcycle.
6. Hug the Teddy: Remember to hug the teddy bear and keep the arm tight to your chest so that you using your whole body against the the opposing arm. Squeeze the knees and draw out the tap.
This is a great attacking option from the back. I learned this a few years ago from Ed Ramos now its one of the go to moves in my arsenal. -Justin McCravey
Baytown Student Highlight: Emily and Evan McCray
What are your name, age, and profession?
Emily McCray, 42, Wife/Mother of 2/Business Owner/Jewelry Designer...i.e. REALLY busy!
When did you join Elite MMA?
August 2013
Why did you decide to start taking martial arts?
I want to get in shape, to be strong, and to know I at least have a chance at surviving in an emergency situation. I also want to set a good ex-ample for my children by showing them how to be strong, to show respect and to stand up for themselves and others, to learn self discipline, and to maintain a healthy and active lifestyle.
In the past what had caused you not to take martial arts?
I have taken martial arts in the past, but did not continue because the instructor (a family friend) moved away and I was not confident enough to find a new place to train.
Is this your first time taking martial arts and what classes do you take?
I took aikido in the past, and I now take kickboxing. My 6 year old son also takes jiu-jitsu with Elite. I plan to add jiu-jitsu to my routine in the next week or so.
If you had any concerns about join Elite MMA, what helped with your decision?
I had concerns about my dedication level and the cost. Mr. Hai and Mr. Justin helped me realize that I deserve to do something for myself, and I needed to be committed to myself. The fact that I was doing this in conjunction with my son's jiu-jitsu classes helped. In the end, the money is nothing compared to what I have gained.
Since you have been part of Elite MMA, please share what you have been able to accomplish?
Since joining, I have enjoyed every second of my training, have proven to myself that I need this in my life, and have lost TEN pounds! I also feel less stressed and more confident on a daily basis. Taking classes with Elite MMA has absolutely touched every area of my life. I look forward to class days not only because I know how much fun I am going to have, but because I know it will give me peace of mind.
My blood pressure and stress levels have decreased, and overall my health has greatly improved, which helps me both mentally and physical-ly at work and in general. My eating habits have improved because I am more mindful of the need to fuel my body, and to not waste all the hard work I've done by eating mindlessly. But now when I do splurge (and trust me I do), I can do so without guilt! While I have lost weight and a dress size, I have more importantly gained self confidence. The self confi-dence and the peace I now have carries over into work, family, and social aspects of my life. I just feel calmer most of the time, and my concentration and focus are better than ever.
This experience has also been a bonding experience for me and my son. It is "our thing" that we do together, without fail, every week. My daughter can't wait to join as soon as she is old enough. We have gained a new kind of family at Elite MMA. While one might speculate that Mr. Hai and Mr. Justin are simply good salesmen because they convinced me to join, but I have learned that they and all the instructors I have met at Elite MMA actually care about their students on a personal level. They know how many classes I've taken and congratulate me on it. They notice and care when I'm absent from class and text or call to be sure we are fine. They help motivate my son to finish his homework while I am in kickboxing. They encourage us to show up, not just for ourselves, but to support other Elite members as well. Elite MMA is a community that is there to support you, and encourages you to support the community.
Anything else you would like to share with someone who is looking to get involved with taking martial arts or looking to change their cur-rent lifestyle when it comes to their health?
Having joined Elite MMA, I can say one thing for sure; it has changed my life. If you are reading this, please don't hesitate another minute. You can do it. We will help you. Show up, try, you will not regret it!
Are Women Safer When They Learn Self-Defense?
A UO sociologist finds that women who took a ten-week self-defense training were significantly less likely to experience unwanted sexual contact than those who didn't.
"Walking into a bar the other night, a man grabbed the back of my cowgirl hat and when I turned around [he] continued to screw with it. I looked him in the eye and said 'We don't know each other. Don't touch me.' This is huge for me, I didn't used to look men in the eye, and most often when I say things, it's too quiet for people to hear."
The young woman telling this story had taken a thirty-hour self-defense class at her university. She was reporting back, a year later, on her experiences since taking this course.
Her story is part of a study designed by UO sociologist Jocelyn Hollander that looks at the outcomes for 117 college students who received this self-defense training versus a control group of 169 students who did not. Of those, seventy-five from the first group and 108 from the second agreed to take part in a follow-up survey or interview.
The results are clear: a much lower percentage of the women who took the self-defense class reported incidents of unwanted sexual contact than the women who did not take the class (see chart).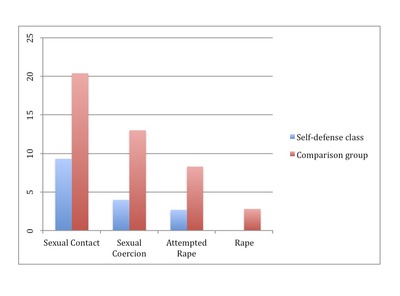 The chart shows the percentage of female college students from two groups—those who completed a thirty-hour self-defense class (blue) and those who did not (red)—reporting different types of unwanted sexual contact over a one-year period. A significantly lower percentage of those who received self-defense training reported incidents of any kind.None of the women who took the training reported a rape (versus 3 percent from the other group).
Overall, 12 percent of the women in the self-defense group reported some form of sexual intrusion during the follow-up period, versus 30 percent in the control group. This latter figure (nearly one in three) is consistent with the rate of sexual victimization of female college students nationwide.
Hollander's study—the first of its kind that looks at women taking an extensive course that spans an entire college term, and that also evaluates outcomes over a full year—will be published in an upcoming edition of the journal Violence Against Women.
It must be noted that this was a feminist-oriented self-defense course, specifically designed for women, with a focus on the strengths of women's bodies (lower-body versus upper-body strength) and techniques to counter the holds and moves often made when a woman is attacked.
"A man at the bus stop was invading my space and . . . using ploys to see if I would do what he asked. He acted like he was joking with me and grabbed my arm near my wrist. I used the wrist release I learned and said loudly for him to leave me alone. . . . I think if I had been less resistant he would have taken it further."
Perhaps more important than the physical techniques, says Hollander, is the philosophy of this course, which assumes that women are not helpless and can effectively resist (but with the caveat that women's ability to defend themselves doesn't mean they are responsible for stopping violence.)
The empowerment philosophy further assumes that even when physical defense isn't called for—when women are faced with obnoxious or harassing behavior that may not be imminently dangerous—they can also learn to set clear boundaries.
The importance of the boundary-setting dynamic is crucial, says Hollander, because "most unwelcome sexual contact doesn't involve a stranger jumping out of the bushes." In fact, it more often involves an acquaintance or even someone closer.
But no matter whether it's a stranger or a friend, it's also important to recognize that unwanted sexual contact spans a range of behaviors; those shown in the chart are based on a set of legal definitions: sexual contact (unwanted touching), sexual coercion (unwanted sexual intercourse as a result of pressure or use of authority), attempted rape (an unsuccessful attempt at forced intercourse) and rape (forced intercourse).
As a result of this increased awareness, "a number of interviewees commented that they had reevaluated past experiences and recognized them as assault after taking this class," said Hollander.
Hollander's interest in this topic began when she took a self-defense course as an undergraduate at Stanford University. "It made me much less afraid," she said, and this insight inspired her to ponder "the role of violence in women's lives, and the role of fear—how fear shapes women's lives."
"I was at a football game and this drunk guy was stomping all over the place and he put his arm around me. Normally I wouldn't say anything. I was just like, 'Oh, whatever, you know, he's just drunk. Let it go.' But I actually spoke up and said, 'Get your hand off of me.' That's something I would have never done before. He was, 'Oh, I'm sorry. I didn't mean to . . . ' So it worked. That's a really small thing, but to me it was just so empowering."
A particularly valuable feature of a feminist approach to self-defense training, Hollander says, is that "it does not constrain women's lives or restrict their freedom—as do many other prevention strategies and advice to women." Many trainings focus on the statistics that state the likelihood of a woman being raped in her lifetime, and these indeed are frightening. But while this data is important, it's only a starting point, says Hollander.
Most important are techniques to build confidence, as well as verbal and physical resistance skills—all of which Hollander credits for the low rate of incidents for those who took the class. With the right kind of training, "women are better able to discern the warning signs of assault. They are clearer about their own desires in an interaction, and more willing to speak and act on their own behalf."
Taken together, she says, "these are all elements that reduce the odds of an assault."
-Lisa Raleigh
Please visit http://cascade.uoregon.edu/spring2013/social-sciences/are-women-safer-when-they-learn-self-defense/ for this story.
Congratulations to all students who were promoted during October 2013!!!
UFC 167 on Saturday, November 16, 2013
Come join us for a great night of fun watching the UFC and hanging out with other Elite MMA family members!
Come join us for a great night of fun watching the UFC and hanging out with other Elite MMA family members!
Westheimer *NEW LOCATION*
Buffalo Wild Wings
9435 Katy Freeway
Houston, TX 77024
Phone: 281-833-8300
Where: Buffalo Wild Wings suggests being there by 7:30 to avoid parking problems and avoid-ing a line to get in. Main card begins at 9pm
Kingwood
Mojo's Sports Grille
18323 West Lake Houston Pkwy.
Atascocita, TX 77346
Phone: 281-812-0405
Where: Mojo's suggests being there by 7pm to be sure to get the tables for the fights. Main card begins at 9pm.
Who: Elite MMA students and their friends & family are more than welcome.
Age: Adults and kids are welcome, anyone under 21 is not al-lowed in the bar area.
How do I sign-up?
There is a limited amount of seats available. You can reserve your seat by contacting the school or putting your name on the sign-up sheet at the school.
Website: Like us on:
www.Elite-MMA.com www.Facebook.com/EliteMMA
Happy November birthdays
Not Sure Which Class To Try?
click here to reach out to an instructor!